FREQUENTLY ASKED QUESTIONS
Get answers to the questions most frequently asked about running the Shanhaiguan Great Wall Trail Race.
WHAT IS THE RACE DATE?
The Shanhaiguan Great Wall Trail Race takes place on October 15-17, 2021 October 15-17, 2021. Read the update here.
The deadline to register for the race is 1-month before the race date, registration will close on September 15, 2021. Due to event planning and logistics, we are not able to accept registration entries after this date. Sorry, no exceptions.
WHERE IS THE RACE?
The Shanhaiguan Great Wall Trail Race takes place in the Shanhaiguan District of Qinhuangdao (秦皇岛市), a port city on the coast of China in northern Hebei province where the Great Wall meets the ocean.
The check-in will be located at Shanhaiguan Pass, famously known as The First Pass Under Heaven, a UNESCO World Heritage-Cultural Site.
WHAT IS INCLUDED WITH THE RACE ENTRY?
Run 160K, 110K, 70K, or 42K course
Official race shirt
Finisher shirt (160K & 110K)
Race Towel (70K & 42K)
Collectible finisher medal
Performance visor hat
Race buff
Chip timing
Volunteer support
Support at course aid-stations
Medical first aid
Finish line water & food
Event insurance
Special trophy for top finishers
Shuttle bus transportation
A bucket list race experience!
WHAT ARE THE ELEGIBILITY REQUIREMENTS?
 160K & 110K PARTICIPANTS
Are required to submit a certificate of achievement for any of the following:
Completion of a 100K distance or more in an official competition within the last 2-years.
Completion of two full marathons (42K) within the last 2-years.
 70K PARTICIPANTS
Are required to submit a certificate of achievement for a 50K or longer distance within the last 2-years.
BIB PICK-UP
Bib pick-up will be located at The First Pass Under Heaven. Once checked in, then runners will board a shuttle bus to their start line.  Plan to arrive 4-hours before start time to check-in and allow shuttle transportation time.
SHUTTLE TO STARTLINE
There will be a shuttle bus at The First Pass Under Heaven to the race starting point of 4-hours before each distance group. Do not be late or risk being disqualified.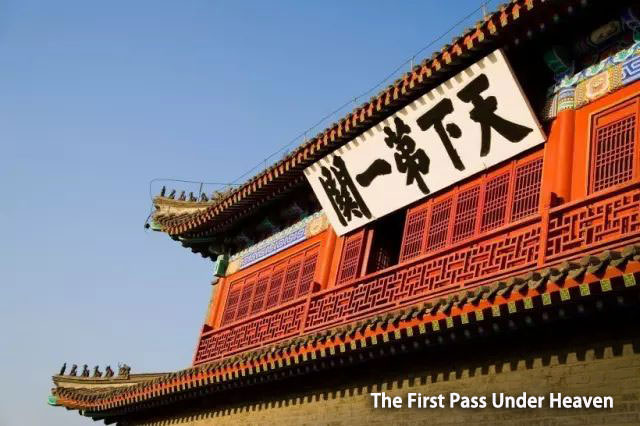 STARTING LOCATIONS & TIMES
160K RACE
Starting point is Bingtangyu (冰塘峪)
10/14/2022 08:00AM – 10/17/2021 14:00PM (2-DAY RACE)
110K RACE
Starting point is Tiannv Town (天女小镇)
10/15/2022 08:00AM – 10/17/2021 14:00PM (FINISH NEXT DAY) 
70K RACE
Starting point is Tiannv Town (天女小镇)
10/15/2022 08:00AM – 10/17/2021 8:00AM (FINISH NEXT DAY) 
42K RACE
Starting point at the Ninth Gate (九门口)
10/15/2022 08:00AM – 20:00PM (SAME DAY RACE)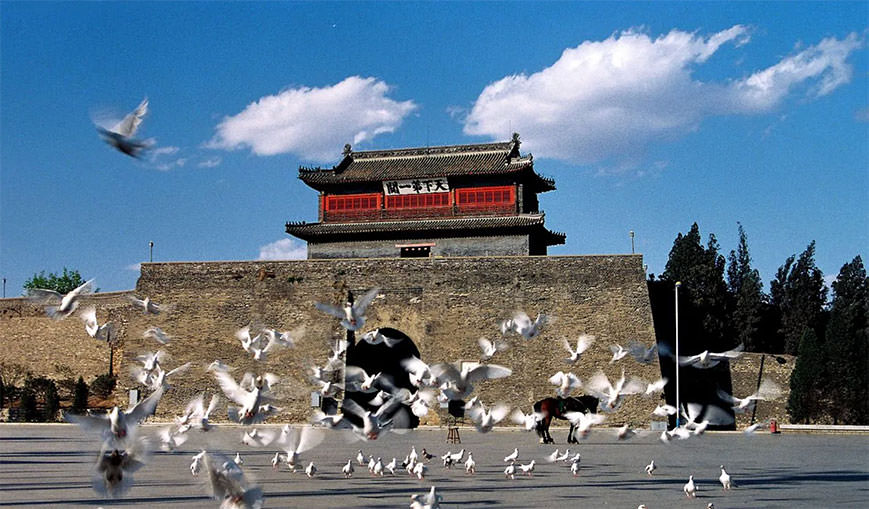 WHAT SHOULD I PREPARE FOR THE RACE?
The Shanhaiguan Great Wall Trail Race is trying to be as green as possible have minimal environmental waste. This is a cupless event, no paper cups are given at stations. Please help us by bringing your own water bottle or hydration pack for the race. You can refill water on the course stations.  Below you will find a list of recommended items for running the race.
RECOMMENDED ITEMS
Carry at least a 1.5-liter water bottle or hydration pack
Minimum 1000 calories of emergency food such as gels or energy bars
Cell phone
Course map or electronic map downloaded to phone
Trail running shoes
Gloves
Running hat, visor, sunglasses
Sunscreen and lip balm
Personal medicine/salt capsules
First aid-kit, elastic bandage
Whistle
Garmin/GPS tracking
Camera (optional)
Mind of a champion!
POST RACE ITEMS
Water
Recovery drink, we highly recommend coconut water!
Refueling food or snacks
Change of clothes
Cash
Please review race rules for additional mandatory required items.
WHAT IS THE RACE SCHEDULE?
The event takes place over 2-days with check-in the day before. Plan to arrive at least 1-2 days before your start day to allow for travel and lodging time.  Please review the schedule page for specific details.
CUT-OFF TIMES
Runners must meet the following cut-off time limits to finish the race for the race and stations.
160K – 48-hours(14th 14:00-16th 14:00)
110K – 30-hours(15th 8:00-16th 14:00)
70K – 24-hours (15th 8:00-16th 8:00)
42K – 12-hours (15th 8:00-15th 20:00)
View the Course page for details on station cut-off time requirements.
WILL THERE BE AID-STATIONS ON THE COURSE?
Yes. There are multiple stations on the course ranging depending on which distance category you are running. Study the Coursepage for details.
ARE THERE HEALTH REQUIREMENTS?
Yes, you must be in good health and fit condition to participate in this challenging race. The organizing committee reserves the right to refuse entrants who are at risk of including those with heart disease, hypertension, diabetes mellitus, or other potential health risks.
Drinking is forbidden for all participants before the race. Smoking is forbidden at the Great Wall. Please respect the national park and do not litter the environment.
There are also COVID-19 health requirements for traveling to China and the race.
TESTING
Currently, China requires proof of dual negative COVID-19 test results for a Health Declaration Certificate (HDC) QR code before boarding any plane to China. The tests must be completed no more than 48-hours prior to departure and submitted to the local Chinese embassy or consulate.
VACCINATION
As you prepare for your trip to China, it is very important to consult your doctor regarding your general health to participate in endurance activities and any vaccinations you may need.
It is also important to check with the China embassy and your local travel requirements to verify if vaccination and certified test results are required for travel.
Vaccinations should be obtained from your own physician. If the race gives information about vaccination measures or other medical information, this should be considered as a service that is under no medical liability.
Participants must be able to document the fulfillment of vaccination requirements by presenting the International Certificate of Vaccination.
Please be advised that vaccination and testing requirements are the customer's responsibility.
QUARANTINE
Additionally, there may be quarantine requirements upon arriving in China. Requirements are being updated regularly as we progress through the pandemic.
MORE INFO
Please check your local Chiese Embassy website for up-to-date requirements.
DO I NEED A TRAVEL VISA?
Yes. A China travel visa is required for foreigners to enter the country. If you haven't applied for your visa, we recommend that you do so right away. It is best to apply early rather than risk missing out.
When applying be sure to provide in advance your flight itinerary and hotel details.
Almost all non-Chinese nationals will need a visa to enter China. There are different visa categories and you will most likely need a tourist visa (L). Please contact your local Chinese embassy or consulate for more information. The procedure normally requires submitting a visa application form, paying a fee and providing the Chinese authorities with an authorized flight itinerary from your travel agent. This process takes about one to two weeks. Note that your passport must be valid for at least six months after entry. For more information please visit the Chinese Embassy website.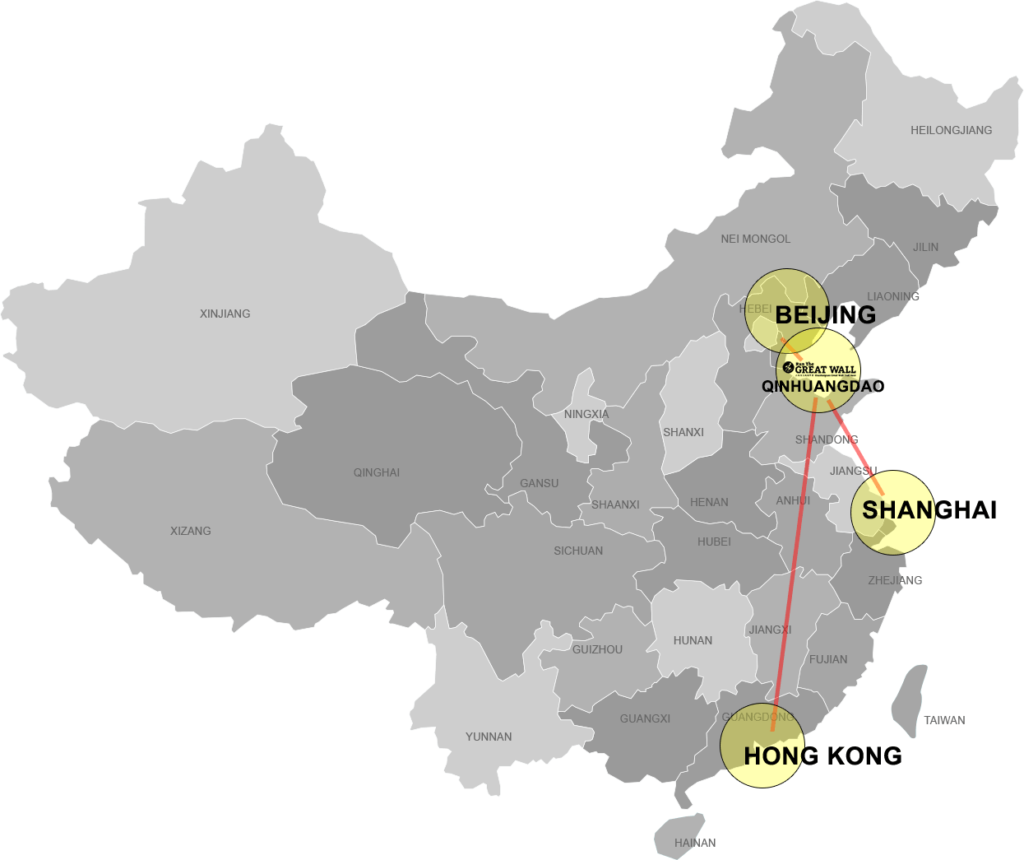 HOW TO GET THERE?
Participants will need to arrive at the port city of Qinhuangdao in the Shanhaiguan District in the Hebei province of China.
Located about 300 km due east of Beijing. Below are details for transportation methods.
 BY PLANE
Participants flying in will need to arrive at Qinhuangdao Beidaihe Airport (BPE, ZBDH). This airport is approximately a 90-minute drive to the Shanhaiguan District.
 BY TRAIN
Participants traveling by train will want to arrive at the Shanhaiguan Railway Station. There are several high-speed train services daily running between Beijing train stations and Shanhaiguan. The First Pass Under Heaven is about 10-minute walk north of Shanhaiguan Train Station.
 BY BUS
Public buses to the First Pass Under Heaven Tianxiadiyiguan (天下第一关): 13, 25, 33, 302
WHAT TYPE OF WEATHER IS EXPECTED?
October begins the fall season in Qinhuangdao China. The typical weather is cool mornings with warming during the day. Expect temperatures ranging from 10ºC-18ºC (45ºF-65ºF) with about a 10% chance of precipitation. We recommend checking the weather forecast a week before the race so you can plan to dress appropriately.
FINISHER PRIZES
All finishers will receive an official finisher medal.
The top 3 finishers of each race will be presented on-site and receive the following cash awards (RMB/pre-tax):
| Finish Place Prize | 42K | 70K | 110K | 160K |
| --- | --- | --- | --- | --- |
| First Prize | ¥1000 | ¥2000 | ¥3000 | ¥5000 |
| Second Prize | ¥800 | ¥1000 | ¥2000 | ¥3000 |
| Third Prize | ¥600 | ¥800 | ¥1000 | ¥2000 |
ITRA POINTS
This race is an ITRA, UTMB point certification event, and all participants who finish the race will get corresponding points.
Points are as follows:
160K- 6 points
110K- 5 points
70K- 3 points
42K – 2 points
WHAT ARE THE RACE RULES?
It is important that all participants understand and follow the race rules, please review for details.
CAN I WEAR HEADPHONES?
For your safety and the safety of all participants, we do not recommend wearing headphones while running a race. However, if you do, we ask that you keep the volume down at a safe level or only in one ear so you can hear other runners and instructions from event personnel. It is important for you to be aware of other people coming up behind you. The important thing is paying attention to everyone's safety and maintaining good race etiquette with other runners.
ARE THERE AGE RESTRICTIONS?
Yes. Due to the extreme challenge of the course, it is advised that participants are between the ages of 19 to 68 and in fit condition.
CAN I DO PROMOTION AT THE RACE?
No. The race takes place on an international landmark in China. Participants are not allowed to have any activity or promote politics, religion, race, or human rights issues. Please respect the China requirements and laws.
Yes. Distance change requests are available, the cut-off for all changes is 1-month before the race. Submit change request from the contact page.
WHAT INSURANCE & PROTECTION IS PROVIDED?
In this event, participants will purchase insurance on the day of the competition. It is recommended that contestants purchase annual accidental injury insurance to give themselves and their families peace of mind.
This event is equipped with professional rescue agencies, medical runners, and team collection.
There are emergency vehicles for competitions along the way. This event will only provide necessary emergency medical care during the race, and it is not covered by the participants' own illnesses. The public accident insurance only covers injuries suffered due to accidents during the race.
There will be more than 200 volunteers on the course to provide services to the runners, all of whom are senior travel friends and outdoor enthusiasts with many years of outdoor experience.
In the event of extreme weather and force majeure, the organizing committee will promptly terminate the competition.
CAN I APPEAL RACE RESULTS?
Anyone who disagrees with the results of the competition, the referee's judgment, and the qualifications of the contestants, and submits an appeal, must submit a written appeal report to the Arbitration Committee of the Organizing Committee and an appeal fee of ¥500 yuan to be accepted; if the case is won, the full amount of ¥500 yuan will be accepted. return.
Appeals must be made before or during the announcement of the competition results, and will no longer be accepted after the announcement.
IS THIS DIFFERENT FROM THE OTHER GREAT WALL RACES?
Yes, there are multiple Great Wall endurance events that take place every year. Of the other races that take place on the Great Wall, this race, Shanhaiguan Great Wall Trail Race is known to be one of the only ones that feature ultramarathon distances (106K, 110K, & 70K) over a standard marathon distance.
Running on the Great Wall is already extremely challenging, but running up to 160K distance makes this the most challenging Great Wall endurance race in the world. Most runners will not be able to complete such a distance and will drop out, but those who do are able to finish the race will reach a unique and very rewarding milestone in their life.
Featuring the most varied terrain and course with sections of the wall in their original, crumbling condition which requires extra careful attention by participants as they traverse the ancient history of the Great Wall of China. Additional sections of the course take runners off the wall onto trails and pathways through the natural mountain and scenery surrounding the Great Wall. This gives runners new perspectives and a greater variety of scenery to enjoy!
The deadline to cancel an entry is August 31, 2021, 50% of fees will be refunded to anyone that submits a cancellation request before this deadline. After September 1, 2021, no refunds are available and entries are non-transferable. Packet pick-up must match entry name and ID. Sorry, no exceptions. Due to race logistics and planning, you will not receive a refund if you cannot participate.
Please submit a cancellation request from the contact page.
WILL THE RACE BE CANCELED DUE TO RAIN?
No, the race will be held rain or shine. However, in the event of extreme weather and force majeure, the organizing committee will promptly terminate the competition.
Can't find the answer to your question? Contact us with your question and we'll respond as soon as we can.